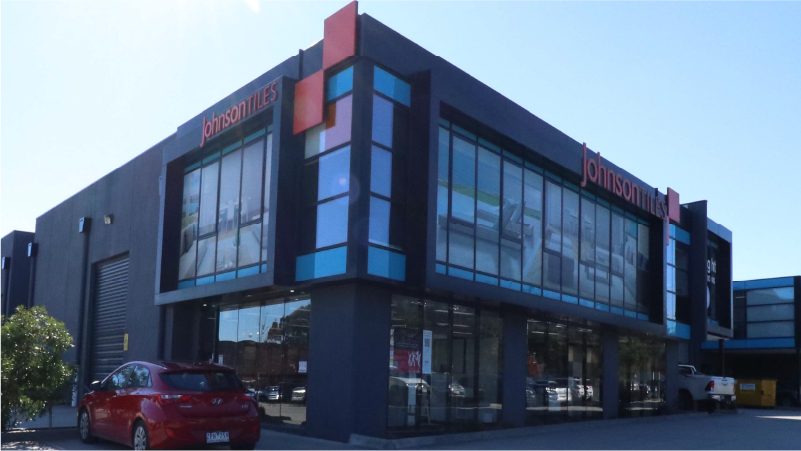 About Johnson Tiles
Johnson Tiles journey first began with H&R Johnson Tiles, founded in Cobridge, Stoke-on-Trent, England by the Johnson family in 1901.
Today we feature in leading homes, offices and iconic buildings and landmarks through the passage of time. Our designs, while contemporary, allow for individual styles and tastes. Leveraging our lineage from master English craftsmen, we continue to integrate the latest manufacturing techniques and machinery. Continually aiming to excite the imagination with innovative and stylish tile solutions.
What sets us apart is our wealth of industry experience that enables us to manufacture quality tiles. By skillfully integrating our traditional expertise with modern technology, we have succeeded in offering a stunning range that is second to none. We strive for excellence with our quality tiles that are created to offer exceptional performance.
Specialising in design and manufacturing, our strength is in our operations, with quality and reliability being the cornerstones of our brand and as such, we operate and maintain our own manufacturing facilities in Malaysia and China.
It is our endeavour to craft new products and provide you an exciting range that is in level with the ever-changing design trends. Our collection features modern and traditional styles that enable you to decorate your space with admirable splendour. We constantly strive to draw inspiration from the latest trends to create tiles that reflect all unique styles.
Our tiles are distinctly different to cater to your creative flair. With the wide choices available, you are sure to find a tile that seamlessly merges with your space or enables you to create a new and inspiring theme. With our bespoke solutions, you can make your dream designs a reality.

The Manufacturing
Our factory is the leading tile manufacturer in the production and distribution of ceramic floor, homogeneous and monoprosa tiles. As we are a factory backed company, we can offer bespoke solutions and generally better pricing than most sellers.
Our products are made from 100% organic raw material and have quality control checks on every output of each process.
The Process
1. Raw materials are prepared into clay slip
2. The clay slip is dried and formed into a powder
3. The powder is then pressed into what is called green tiles
4. The green tiles are dried
5. Glazed
6. Printed
7. Fired in the Kiln
8. Quality Checks
9. Selection
10. Packaging
Where It Began
Johnson Tiles was founded in 1901 as H&R Johnson Ltd., by the Norcros Group in the United Kingdom.
H&R Johnson became a market leader and was famous throughout the UK for quality products.
Global Expansion
Throughout the first half of the twentieth century, the Norcros Group expanded the organisation and developed sister companies in South Africa, Greece and India, and offices in Dubai & USA. These companies flourished & the group gained considerable global presence and buying strength.
Australian Launch
On 22nd June 1963 Johnson Tiles Australia, trading as H&R Johnson Australia PTY LTD was born. Two manufacturing sites were set up - Mascot, NSW & Coburg, Victoria. Both factories produced ceramic tiles and other ceramic goods for over twenty years, and employed more than 600 Australians.
Time For Change
In 1984 the trading name was officially changed from H&R Johnson Australia to Johnson Tiles Australia, and a brand new manufacturing facility was built in Croydon, Victoria. This became the primary production site for all Johnson Tiles tile and ceramic products, whilst the antiquated Mascot and Coburg factories were closed.
New Bayswater Base
Johnson Tiles Australia purchased two companies in Bayswater, Victoria - Sovereign Potteries and Johnson Brothers (the primary supplier of the materials used for producing ceramic products) and these were merged into a brand new, state-of-the-art site facility complete with new kilns, machinery and warehouses. By the mid-nineties, other functions joined the site and employees reached over 300.
Manufacturing
Johnson Tiles Australia continues its manufacturing tradition and has taken a huge leap forward in style, quality and production techniques.
In 2014, Johnson Tiles Australia was acquired by Kim Hin Industry Berhad, a public listed company in Malaysia with three manufacturing facilities in Malaysia and one in China adding to Johnson Tiles rich manufacturing history.
Australia and New Zealand
Johnson Tiles Australia's head office is still in Bayswater, Victoria. Four brand new showrooms were set up across Australia with six distribution centres (including two in New Zealand) and our products can be found in almost every Bunnings Warehouse throughout Australia and New Zealand.
Johnson Tiles Australia, with our passion for tiles, continues to be well known for the quality of our products and service.
Johnson Tiles Goes Digital
Johnson Tiles goes digital! Johnson Tiles presents an exciting new ecommerce platform giving customers the best online tile browsing experience and enriching users with free tools and guides to assist with their transformation journey.
At Johnson Tiles we believe our customer Journey extends beyond the purchase and installation of our tiles - thats why we have included handy blogs and guides to the installation and maintenance of your tiles.